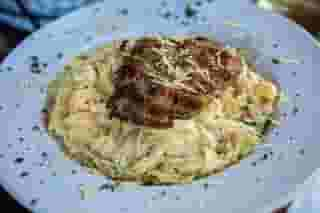 $49.95
FAMILY FEAST - CHICKEN FETTUCCINE + CAESAR SALAD + CHEESE BREAD
Our CHICKEN FETT FAMILY FEAST serves 4-5. 

CAESAR SALAD: Fresh Romaine, shaved Parmesan cheese, croutons and delicious Caesar Dressing. 

CHEESE BREAD: Delicious baguette with garlic butter and topped with Mozzarella cheese, then baked golden brown. 

CHICKEN FETTUCCINE ALFREDO: Fettuccine pasta tossed in our rich creamy homemade Garlic Parmesan Cheese Sauce. Topped with four (4) marinated, freshly -grilled chicken breasts and Parmesan Cheese.

No exceptions please.
Featured